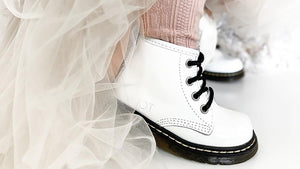 Baby Shoes
Fashion-focused footwear for the littlest of feet. Shop our baby shoe collection for the most fashionable styles.
Toddler Shoes
Run, jump, dance, and play with our toddler shoe collection, made for durability and comfort.
Bags
Designed for style and function, our luxurious vegan leather bags are made for everyday use and appeal.
Big Style For Little Feet
Step into a world of wonder and style with Piper Finn, the most authentic and original footwear brand for kids. Established in 2016, the mission is to curate, design, and reimagine shoes for children that capture hearts and leave you longing for a pair. Experience the joy of discovery as you browse our unique collections, carefully crafted to inspire. Our designs cannot be found elsewhere.
Comfort and style are paramount to us. Piper Finn guarantees the utmost care and fashionable appeal for those tiny feet. From those first baby steps to the exhilaration of running faster than imagined, our shoes are dependable every step of the way, making each day a little more magical.
Introducing the
First Steps Collection
Commemorate moments that last a lifetime with Piper Finn's authentic and original infant shoes.
First Steps