it's as easy as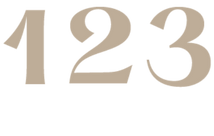 ---
Measure
It's best to measure your child's foot while they are standing to ensure a proper measurement. Place their foot on a flat surface on a sheet of paper. Mark their heel and their big toe, remove your child's foot, and measure the length of the marks in inches.

---

FIND SHOE STYLE ON SIZE CHART
Look at the size chart that corresponds to the shoe you are buying.
---
FOLLOW CHART TO FIND SHOE SIZE
Pick the size that lines up with your child's foot length. Don't worry, we already accounted fora little wiggle room.

IMPORTANT NOTE:
If you are right between sizes, we recommend sizing up to allow your little one some extra time to grow into and wear the shoes. All Piper Finn footwear is 100% genuine leather and will stretch up to a half size when worn regularly.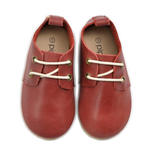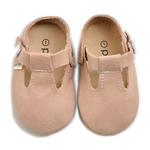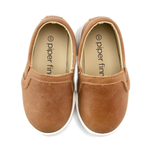 Oxfords, Soft Sole Mary Jane, Slip on Sneaker
Length of Foot
U.S. Size
3.5 - 3.75"
Size 1
3.75 - 4"
Size 2
4 - 4.25"
Size 3
4.25 - 4.5"
Size 4
4.75 - 5"
Size 5
5.25 -5.5"
Size 6
5.75 - 6"
Size 7
6 - 6.25"
Size 8
6.25 - 6.75"
Size 9
6.75 - 7"
Size 10
7 -7.25"
Size 11
7.5 -7.75"
Size 12
7.75 - 8"
Size 13
Hard Sole Mary Jane
Length of Foot
U.S. Size
4.25 - 4.5"
Size 3
4.75 - 5"
Size 4
5 - 5.25"
Size 5
5.25 -5.5"
Size 6
5.5 - 5.75"
Size 7
6 - 6.25"
Size 8
6.25 - 6.5"
Size 9
6.5 - 6.75"
Size 10
6.75 -7"
Size 11
7 -7.25"
Size 12
Sandals
Length of Foot
U.S. Size
4 - 4.25"
Size 3
4.5 - 4.75"
Size 4
4.75 - 5"
Size 5
5 -5.25"
Size 6
5.5 - 5.75"
Size 7
5.75 - 6"
Size 8
6.25 - 6.5"
Size 9
6.75 - 7"
Size 10
7 - 7.25"
Size 11
725 - 7.5"
Size 12
7.5 - 7.75"
Size 13
7.75 - 8"
Size 1K
8 - 8.25"
Size 2K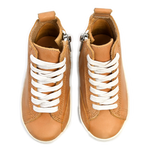 Sneakers
Length of Foot
U.S. Size
4 - 4.25"
Size 3
4.5 - 4.75"
Size 4
4.75 - 5"
Size 5
5 - 5.25"
Size 6
5.5 - 5.75"
Size 7
6 - 6.25"
Size 8
6.5 - 6.75"
Size 9
6.75 - 7"
Size 10
7.25 - 7.5"
Size 11
7.5 - 7.75"
Size 12
Combat Boots
Length of Foot
U.S. Size
4.5 - 4.75"
Size 3
4.75 - 5"
Size 4
5 - 5.25"
Size 5
5.25 - 5.5"
Size 6
5.5 - 5.75"
Size 7
6 - 6.25"
Size 8
6.5 - 6.75"
Size 9
6.75 - 7"
Size 10
7 - 7.25"
Size 11
7.25 - 7.5"
Size 12
7.5 -7.75"
Size 13
7.75 - 8"
Size 1K
8 - 8.25"
Size 2K